BRIAN TUFANO BSC
BSC Lifetime Achievement Award 2020
JIM GREENHORN
1954 - 2020 
It is with great sadness that we must announce the death of our dear friend and client, Jim Greenhorn, 
who has passed away after a short illness.
In a career spanning nearly forty years, Jim was an esteemed and much sought-after Production Sound Mixer, who worked on wide range of feature films and drama, making a multitude of friends along the way. 
Jim joined McKinney Macartney in 2014 on the recommendation of his friend, DoP Chris Seager, and instantly became 
part of our family here. We were incredibly fond of Jim and feel very lucky to have known him. He was true gentleman; warm and generous, unfailingly cheerful and never without a twinkle in his eye. We will miss him tremendously. Our thoughts are with Jim's wife, Jenny, his daughter and grandchildren. We wish them all of our love and support at this difficult time.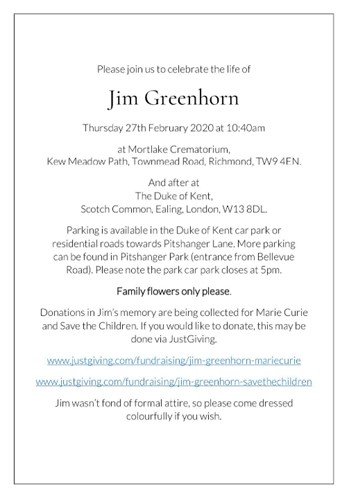 If you wish to attend Jim's funeral then please notify Jenny at the following e-mail address: jenny.greenhorn@gmail.com